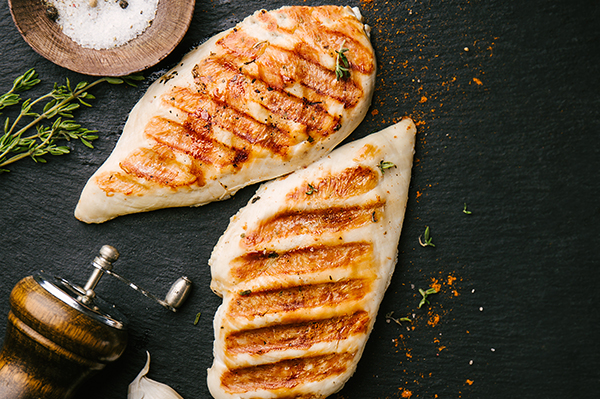 Chicken Picatta: Tender chicken breast sautéed in a lemon and white wine sauce with capers and mushrooms.
Chicken Milanese: Lightly breaded chicken breast pan fried to perfection and topped with a lemon-butter and shallot sauce.
Chicken Formaggio: Tender chicken breast topped with fresh asparagus spears and mozzarella cheese in a white-wine sauce.
Chicken Santa Fe: Mojo Criollo marinated chicken breast topped with a chipolte pepper tomato and sour-cream sauce.
Chicken Fresca: Tender sautéed chicken breast topped with fresh basil, Roma tomatoes and Chevre and finished with a white wine sauce.
Chicken Porccini: Chicken breast sautéed with button, portobella and porccini mushrooms in a brown-gravy and Cabernet demi-glace.
Chicken Limon: Chicken breast grilled in a lemon-pepper sauce.
Chicken Marsala: Chicken breast sautéed with button and portobella mushrooms in a sweet Marsala wine sauce.
Chicken Tropical: Mojo marinated chicken breast, grilled and topped with a tomato and cilantro salsa.
Pork au Pomme: Apple cider and soy marinated pork medallions in a honey-teriyaki demi-glace.
Caribbean Pork: Grilled mojo criollo marinated pork tenderloin medallions served with a fresh fruit salsa.
Plum Pork:
Tender marinated pork medallions basted in a sweet plum sauce Pork
Diane: Pork tenderloin with mushrooms in a brown-gravy and Cabernet
sauce.
Rosemary Pork: Rosemary roasted pork medallions served with a white-wine sauce Teriyaki.
Pork with Pineapple: Pork tenderloin medallions in a honey-teriyaki glaze with pineapples.
Sliced Pork Tenderloin: Thinly sliced, garlic encrusted pork tenderloin served with a fresh dill sauce.
BBQ Pork: Shredded hickory smoked pork in a BBQ sauce served with garlic bread
Mango-chutney glazed Ham: Spiral sliced whole ham with a mango-chutney glaze.
Import and domestic cheese and fruit display
Ying and Yang Hummus with pita points
Peppered Salami wrapped Asparagus Spears
Smoked Salmon with capers, chopped egg, minced red onion and capers
Vegetable Crudités with cool selection of dips
Cognac Black Peppercorn Pate
Spinach and tomato tortilla wraps with smoked chicken and salsa creamcheese
Hot Spinach & Artichoke dip with tri-color tortilla chips or bread points
**Mini Crabcakes with a tangy tarter sauce
Chicken Quesadillas with chunky salsa
Teriyaki Chicken skewers
Sweet'nSour Meatballs with fresh pineapple
Swedish Meatballs
Toasted Baguette with apple butter and Brie
Quiche Lorraine and Florentine
Bruschetta with fresh pesto, roman tomatoes and Asiago
Spinakopata : spinach and ricotto filled filo pastries
Crabmeat stuffed mushrooms
Chicken stuffed mushrooms
Greek Canape's with a feta cheese spread and seasoned eggplant
**Italian Antipasto platter – take a culinary cruise through Italy
Cajun crab spread on toast-points
**Shrimp cocktail
Deep-fried pork wontons with a Thai peanut sauce
Buffalo chicken wings with a chunky blue cheese
Hickory BBQ chicken wings with creamy ranch
Teriyaki chicken wings with fresh pineapple sauce
Mini Empanadas
Tostones con Pollo
Mini Ham Croquetas
Prepared to order pasta entrees or starters choice of penne or bowtie pasta with:
Alfredo sauce
Marinara sauce
Chicken
Italian sausage
Fresh garlic
Primavera veggies
Gorgonzola
Mozzarella and parmesan cheeses
Beef, Veal and Lamb Dishes
Beef Stroganoff: Sliced beef tenderloin strips with mushrooms in a white wine and sherry cream sauce
Beef Roulade: USDA choice beef strips with an herbed filling rolled into spirals and oven-baked topped with an herbed cream sauce
Beef Bordelaise: Round steak strips served with button mushrooms and shallots in a Bordeaux and Espagnole sauce
Shepherd's Pie: Lean, seasoned ground beef topped with creamed corn and mashed Yukon gold potatoes
**Filet Coliseum: Tender filet strips with caramelized onions and portabella mushrooms in a Cabernet reduction sauce
Caribbean Steak: Island marinated steak strips grilled to perfection seved with a lime sauce
Beef Stew: Tender beef cubes with celery, carrots, tomatoes and potatoes in a hearty stew sauce
**Veal Marsala: Tender veal medallions with wild mushrooms in a sweet Marsala sauce
**Veal Picatta: Veal medallions served in a tangy lemon-white wine sauce with capers
**Veal Helena: Veal spirals filled with Spinach, Smoked Salmon and Havarti cheese
**Veal Involtini: Tender Veal Scallopini wrapped around fresh Asparagus with pancetta and mozzarella cheese in a white-wine shallot sauce
**Veal Vienna: Breaded veal strips served with a lemon-butter and shallot sauce
**Roasted Rack of Lamb: Rosemary seasoned rack of lamb served with an apple-mint sauce
Lamb Shish Kebab: Fresh vegetables and marinated lamb cubes on a skewer
**Herb and Cheese Lamb Cutlets: Herbed cheese filled lamb cutlets, breaded and baked to perfection
Curried Lamb: Lamb strips served with tomatoes and peppers in a curry sauce
Irish Stew: Cubes of lamb, celery, carrot, onions and potatoes in a hearty stew
** per person price may vary if theses entrées are chosen.
Fresh Mahi-mahi, grilled and topped with a Key lime honey garlic sauce
Blackened Mahi-mahi topped with a Caribbean fruit salsa
Grilled Salmon Roulades stuffed with fresh herbs and creamcheese
Maryland style Crabcakes served with an orange saffron sauce
Pesce Cartoccio: Fresh Mahi-mahi baked in parchment paper in a tomato- white-wine sauce with mushrooms, capers and sun-dried tomatoes.
Pan-seared or blackened Mahi-mahi served with a picatta sauce
Grilled Tuna topped with marinated caramelized onions and button mushrooms
Paella de Espana: Delicious blend of mussels, fresh Mahi-mahi, clams and calamari mixed with rice and vegetables and Spanish seasonings
Blackened Grouper filets with a tomato-cilantro salsa